Hotel Accommodation
Nippon Travel Agency Co., Ltd Convention Group has been appointed as the official travel agent for the 61th Annual Meeting of Japanese Society of Neurology. Hotel rooms at special rates are being held for meeting participants in various hotels of different categories near the meeting venue. Reservations can be made online by clicking the "Book Your Accommodation" button below.
Reservation Deadline
April 17 (Fri), 2020 (Japan Standard Time)
*extended July 20, 2020 (JST)
『61st Annual Meeting of the Japanese Society of Neurology』
Hotel Map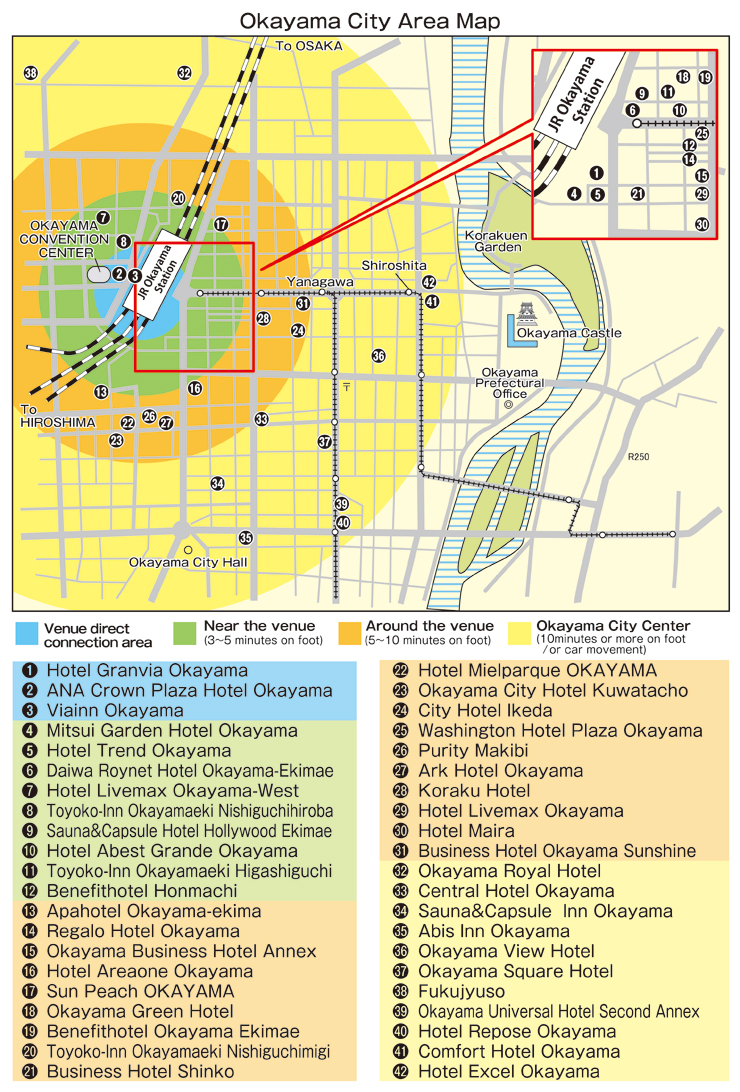 *Please check here for each hotel's details such as address, phone number and so on.
Besides the recommended hotels shown on the map above, there are many accommodations in Okayama City and Kurashiki City.
Please visit the sites below for details.
Travel Guide
Okayama Information
Visa
Please visit the site "Visa Application".
Must-see Sightseeing Tours in Japan
Official Travel Agent
Nippon Travel Agency
Okayama Branch
61st Annual Meeting of the Japanese Society of Neurology desk
In charge: Mike KITATSUGI (Mr.) (NTA Business Solutions)
E-Mail: mike.kitatsugi@gmail.com
Office Hours: 9:30-17:30 (Mon - Fri) Japan Time
Contact in Your Area
Listed below are contacts for your area that can assist you with your travel arrangement.
If you cannot find one in your vicinity, please contact the official travel agent.
Nippon Travel Agency Okayama Branch
61st Annual Meeting of the Japanese Society of Neurology desk
In charge: Mike KITATSUGI (Mr.) (NTA Business Solutions)
◇ASIA
Beijing
NTA INTERNATIONAL TRAVEL AGENCY (BEIJING) CO.,LTD
(日旅国際旅行社(北京)有限公司)
507. BLOCK B LUCKY TOWER, NO.3 DONGSANHUAN BEILU, CHAOYANG DISTRICT, BEIJING, CHINA
Phone No.: 86-10-8468-2759 / Fax No.: 86-10-8468-2942
Shanghai
NTA TRAVEL CHINA
(日旅国際旅行有限公司)
UNIT A2 OF 7F, V-CAPITAL,NO.333 XIANXIA ROAD, SHANGHAI, CHINA
Phone No.: 021-5208-1713 / Fax No.: 021-5208-1746
Taipei
NIPPON TRAVEL AGENCY TAIPEI OFFICE
12F, 33, JEN-AI ROAD SEC4, TAIPEI, TAIWAN
Phone No.: 886-2-2778-6355 / Fax No.: 886-2-2751-8289
Singapore
NTA TRAVEL (SINGAPORE) PTE. LTD.
141 MIDDLE ROAD, #04-05 GSM BUILDING, SINGAPORE 188976
Phone No.: 65-6338-1985 / Fax No.: 65-6338-8773
Jakarta
JAKARTA OFFICE
SUMMITMAS Ⅱ BUILDING 3RD FLOOR, JL JENDERAL SUDIRMAN 61-62 P.O.BOX 12 KBY ST JAKARTA INDONESIA
Phone No.: 62-21-5202091 / Fax No.: 62-21-5255585
Bali
BALI BRANCH OFFICE
JL.BY PASS NGURAH RAI NO.567, PESANGGARAN, DENPASAR 80222, BALI INDONESIA
Phone No.: 62-361-710462 / Fax No.: 62-361-710464
◇USA & CANADA
Los Angels
LOS ANGELES BRANCH OFFICE
1025 WEST 190TH STREET, SUITE 300 GARDENA, CA 90248 U.S.A.
Phone No.: 1-310-768-3119 / Fax No.: 1-310-323-6235
Las Vegas
LAS VEGAS BRANCH OFFICE
1050 EAST FLAMINGO ROAD, SUITE E-227 LAS VEGAS, NV 89119 U.S.A.
Phone No.: 1-702-733-1501 / Fax No.: 1-702-739-0973
Greater Los Angeles
GREATER LOS ANGELES BRANCH OFFICE
1025 WEST 190TH STREET, SUITE 301 GARDENA, CA 90248 U.S.A
Phone No.: 1-310-768-3119 / Fax No.: 1-310-323-6235
San Francisco Bay
SAN FRANCISCO BAY BRANCH OFFICE
1660 SOUTH AMPHLETT BLVD., SUITE 250 SAN MATEO, CA94402 U.S.A
Phone No.: 1-650-781-0088 / Fax No.: 1-650-781-0188
San Francisco
SAN FRANCISCO BRANCH OFFICE
1660 SOUTH AMPHLETT BLVD., SUITE 250 SAN MATEO, CA94402 U.S.A
Phone No.: 1-650-781-0088 / Fax No.: 1-650-781-0188
New Jersey
NEW JERSEY BRANCH OFFICE
110A MEADOWLANDS PARKWAY SUITE104, SECAUCUS, NJ 07094 U.S.A.
Phone No.: 1-201-325-8484 / Fax No.: 1-201-422-9797
New York
NEW YORK BRANCH OFFICE
110A MEADOWLANDS PARKWAY SUITE104, SECAUCUS, NJ 07094 U.S.A.
Phone No.: 1-201-325-8484 / Fax No.: 1-201-422-9797
Honolulu
HONOLULU BRANCH OFFICE
WAIKIKI BUSINESS PLAZA, SUITE 1200 2270 KALAKAUA AVE., HONOLULU, HI 96815 U.S.A.
Phone No.: 1-808-596-4200 / Fax No.: 1-808-591-2391
Guam
HEAD OFFICE/GUAM BRANCH OFFICE
1411 PALE SAN VITORES SUITE301, TAMUNING GUAM 96913
Phone No.: 1-671-646-7817 / Fax No.: 1-671-649-1629
Vancouver
VANCOUVER OFFICE
#370-1199 West Pender Street Vancouver, B.C. V6E 2R1 CANADA
Phone No.: 1-604-662-8002 / Fax No.: 1-604-688-4767
◇OCEANIA
Sydney
SYDNEY BRANCH OFFICE
LEVEL 9, 22 MARKET STREET, SYDNEY 2000 AUSTRALIA
Phone No.: 61-2-9275-9600 / Fax No.: 61-2-9275-9616
Gold Coast
GOLD COAST BRANCH OFFICE
35 BAILEY CRESCENT, SOUTHPORT, 4215 QLD AUSTRALIA
Phone No.: 61-7-5528-4805 / Fax No.: 61-7-5528-4887
Cairns
CAIRNS BRANCH OFFICE
SHOP 35, 58 LAKE STREET, CAIRNS 4870 QLD AUSTRALIA
Phone No.: 61-7-4031-5844 / Fax No.: 61-7-4031-5312
Auckland
AUCKLAND BRANCH OFFICE
LEVEL 2, SOUTHERN CROSS BUILDING, 59 HIGH STREET P O BOX 105-260, AUCKLAND, NEW ZEALAND
Phone No.: 64-9-309-5750 / Fax No.: 64-9-302-0061
◇EUROPE
Paris
PARIS BRANCH OFFICE
4 RUE DE VENTADOUR, 75001 PARIS, FRANCE
Phone No.: 33-1-44-50-10-10 / Fax No.: 61-2-9275-9616
London
NIPPON TRAVEL AGENCY LONDON OFFICE
VINTNER' PLACE, 68 UPPER THAMES STREET, LONDON, EC4V 3BJ U.K.
Phone No.: 44-20-7507-5652 / Fax No.: 44-20-7681-3130